Electrapour is a global brand for high quality and wide variety of bottle pourers and bartending accessories. Launched in 2008, it was founded by product development experts from around the world and has grown to become the go to source for bar pourers and supplies.
Based in Hong Kong SAR, we ship around the world and enable people to get the products they need fast and easily. If you have any questions, do not hesitate to contact our support team and we will get back to you promptly.
Join the global trend of classic bartending supplies for your home or restaurant and increase engagement with your guests. Experience is essential to being a good host, and experience in today's world is the main way to differentiate.
Electrify your guests – Electrapour!
The Electrapour is an exciting new pour spout like no other. The Electrapour is the first LED pour spout that lights up when you pour, illuminating the liquor stream. This is much different from other pour spouts that simply flash when poured…the Electrapour Illuminates and imparts its LED glow on the liquor itself.
The Electrapour is very different from the annoying flashing LED pour spouts that seem like a good idea at first, but end up annoying your clients and eventually giving your bartenders seizures. The Electrapour's bright, vivid LED light illuminates only from when the liquor hits the pour spout until the bottle is righted. The Electrapour is much more subtle, at home in a swanky lounge as it would be in a busy nightclub.
Designed and engineered by bar industry professionals, we havent overlooked what makes a pour spout a pour spout. After all, what good is a fancy pour spout if its an annoyance to work with night in and night out. With a smooth pour similar in speed and control of standard 285-50 pour spout, the Electrapour has the look and feel you are used to and takes no "getting used to" behind the bar. All the tips may be distracting, but the pour is the same.
The Electrapour fits most standard size 750ml and 1 liter bottles.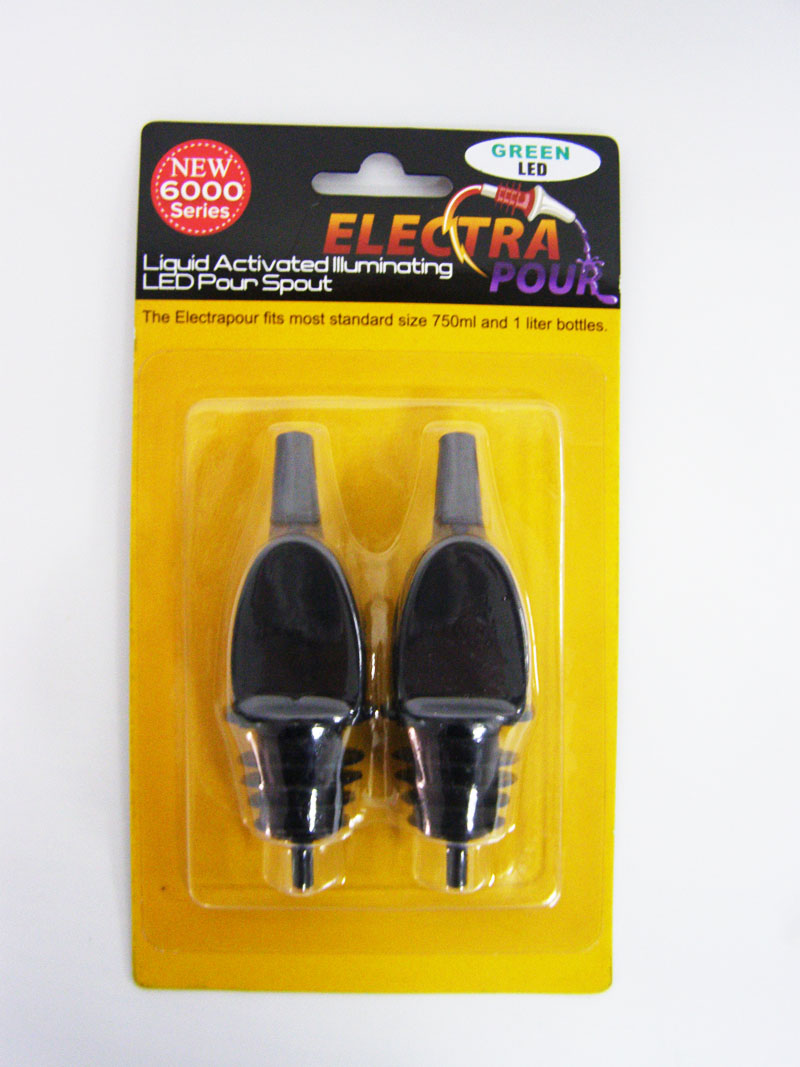 That's great, but what can it do for me?
---
Bartenders
The Electrapour is an excellent tool to help you sell more drinks. And more drinks of course means more tips. TIP: Keep these on your call liquors only so if someone wants to see the in action, they'll need to order a premium drink.
Bar Owners
Be the first in your area to feature the new Electrapour pour spouts. We don't want to say "start a buzz" but we're going to have to. This is also an excellent way to boost the ambiance of your bar or club. And of course, pour more drinks as everyone will be asking to see it again or what they just saw in the first place.
Retail Consumers
Be the first to introduce your friends to the pour spout that is soon to be the standard in all your favorite bars, clubs and lounges. The perfect conversation piece for your home bar, watch your guest's face light up just as the Electrapour does. A great gift too!
Product Distributors
We are at this time as well accepting bids for licensing offers. You can be the first to associate your liquor or product with the Electrapour design! For private labels, we can do any combination of pour spout and LED light colors you desire and prominently feature your product on the spout. Draws FAR more attention to your product than traditional branded pour spout designs, and gets the liquor flowing fast.
RIP Andrew Grilli.
Andrew was one of the inventors of the product in 2008 in Shenzhen, China with Mike Michelini. He passed away in Jan 2015. The team at Electrapour is saddened by this event but will always remember Andrew's contributions early on in the company's development stages during the 2008 to 2009 timeframe. May he rest in peace.
Electrapour is a registered patent and trademark as follows
USA Patent No. 7,341,167
USA Trademark No. 77,569,548
China Trademark No. 7,185,715
Copyright 2008
Link to Electrapour and share on your facebook, myspace, linkedin and other websites showing your friends and the world just how cool this LED pourer is! Below are some example HTML codes for you to use.